More visitors through 4-in-1 digital platform with smart UX insights
Branding
Digital Experiences
Four museums that share knowledge, reach and costs and grow together
We started off by exploring business opportunities with SKD. We dove into the minds of visitors together and developed a modular system that offers one platform for four museum websites.
One market research, four strategies
One brand, four digital identities that radiate individuality and reinforce each other
One CMS for four museums
Bridging the gap between the armed forces and society
The Royal Defence Museums Foundation (in Dutch: Stichting Koninklijke Defensiemusea, SKD) is the umbrella organisation of the four Defence museums in The Netherlands: the National Military Museum, the Navy Museum, the Marine Museum and the Military Police Museum. The museums show how defence contributes to peace, freedom and security worldwide. In this way they bridge the gap between the armed forces and society.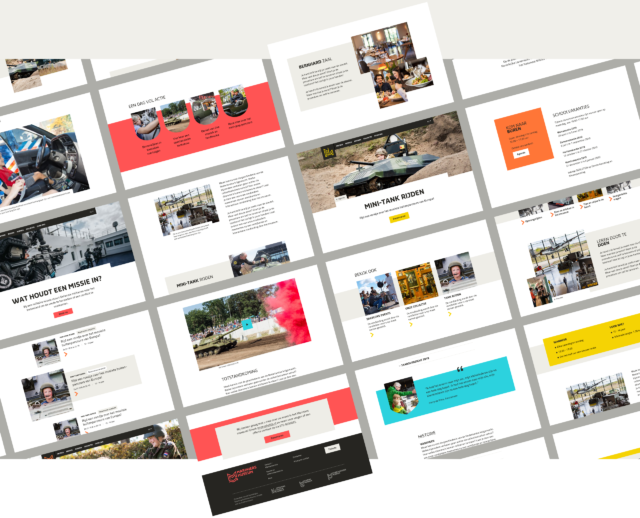 A branding success
154%

Tickets sales growth

939.255

Target audience reached

467%

Growth in Facebook likes

2300

Extra website visitors a week
Doing more means more audience
Our research showed that if visitors expect to be able to spend a longer time in and around the museum, they are willing to travel further. This increases the demographic feeding ground area of the museum, and thus also the visitor potential.
The SKD museums not only display the rich historical collection of defence, but are also full of action.
Dress up as a Royal Netherlands military police officer and turn on the sirens in a military vehicle, find your way out of an escape room, ride in a tank over the largest museum grounds in Europe and explore a real submarine.
There is more than enough to do in the museum to keep you and your family entertained for a full day.
Our challenge is to ensure that the four websites convey the richness of this offer from the first glance.
How did we solve that?

Visual translation of a full day of entertainment
Show don't tell
Our research taught us exactly how museum visitors make their plans. And more importantly, how they choose whether or not to go to the museum.  For instance like this: with one child on their lap and the other from behind their iPad on the sofa, the website is viewed and discussed.
In that first contact moment, the website must meet many requirements: informing, convincing, displaying a lot of content and all in an intuitive and playful way, suitable for young and old.
Our solution to overcome that demanding is an infinite scroll wheel that is filled with rich content. This way we don't have to tell too much, and you as a visitor don't have to click endlessly back and forth through all kinds of pages. You just experience it.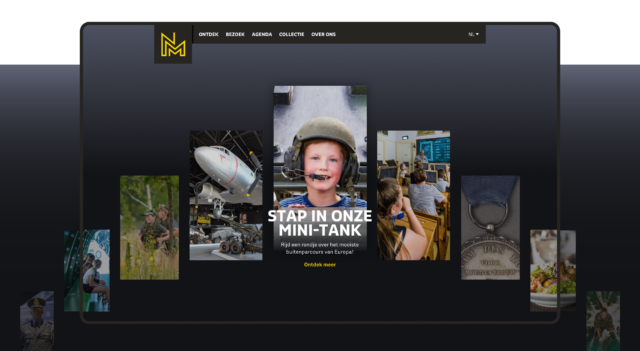 The technology behind the wheel
Scrolling through smooth technique
The scroll wheel seems infinite, but it is not; after all, it consists of a finite amount of items. We solved that by duplicating some items at the beginning and end. When you get to those items on the left or right, the wheel will reset to the other side. It is not noticeable to the user that you actually scroll through to a new position and you experience infinity.
Smooth scroll
We also used a 'virtual scroll'. That's necessary to ensure smooth movement, which works the same for both touch, trackpads and mice. For example, a mouse with a classic click scroll wheel responds jerkily, while an Apple Magic Mouse delivers smooth scroll as standard. We aligned that so everyone has the same smooth experience.
Inclusive & accessible
The wheel can be fully operated with the keyboard (up / down or left / right arrows). You can even click through to the content via the keyboard. We've also made sure that the wheel works with screen readers so that people with visual impairments can use it. We think this is very important, and therefore try to meet accessibility guidelines and the WCAG 2.1 standard as much as possible.
Progressive Enhancement
From an accessibility point of view, we use carousels and other enriching elements sparingly. Inspired by the philosophy of Progressive Enhancement, all information presented via the wheel is therefore also accessible in a different way. The Progressive Enhancement (PE) approach in web development means starting with a simple, usable experience, then enriching this user experience step by step, taking into account all users to ensure that all information remains easily accessible to all users.
What's next?
The new websites of the Navy Museum, the Marine Museum and the Military Police Museum are now live. The largest museum, the National Military Museum, will follow soon. We also helped the museums with a content marketing workshop. After all, a new website is nothing without the content. GRRR involved the marketers of the museums in a content strategy that focused on the balance between content, UX insights and search engine optimisation.
Dividing is multiplying
If you combine market research, digital insights and design, you can come up with smart solutions with which you can discover and use visitor potential. We strongly believe in cooperation and we see many possibilities for this in the cultural, private and public sector. With SKD, we show that specialised skills and cooperation go well together. Perhaps the biggest secret behind achieving this outcome is the process leading up to its creation, in which we bring together insights, preferences and interests. A process that we are happy to facilitate.
Does this sound interesting? We like to think along with you about the possibilities; mail or call (020-3207708) Rolf Coppens.
Creative Director

Rolf Coppens