Achieving sustainable development goals with strong design- and developmentsystem
Data-driven change - Benchmarking for a better world
In 2015, the UN set 17 goals (SDGs) to make the world a better place. Those goals are necessary. But plans of this size can be overwhelming and quickly shelved. World Benchmarking Alliance (WBA) is the organization that wants to change that radically. Because you can only achieve very big goals if you make intermediate steps clearly visible. WBA does this by identifying the 2000 most influential companies that play a key role in achieving these goals. The so-called SDG2000.
To show how these 2000 companies contribute to a better world, WBA developed various benchmarks. This makes it clear, among other things, how much these companies pollute. And how they treat their employees. These results are tested against the SDGs and are then visible to everyone. WBA adds some extra fuel to the fire by responding to the competitive spirit of companies. By sharing performance openly and with everyone, leaders are motivated to do better and laggards are stimulated to catch up. In this way, data becomes a powerful tool for change.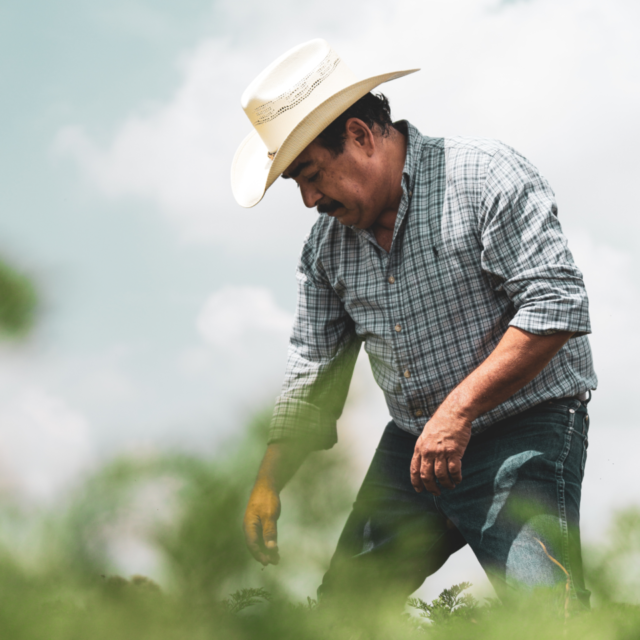 A sustainable future that works for everyone
WBA's mission is to hold companies accountable for their impact on people and the planet. And that they will make a positive contribution to the changes that society demands of them. They do this by publishing openly and transparently.
To contribute to this mission, we jointly developed a thought-leadership platform, where the private sector can read, measure and take action on commentaries on sustainability issues. In this it is important that:
The complex (scientific) information is manageable and understandable for a diverse audience.
The important stories of the alliance are presented in an attractive way.
WBA can scale up easily and cost-efficiently, without losing flexibility.
Making complex information easily digestible
Data about improving the world is – just like the goal itself – incredibly complex. When you start communicating this information from a scientist's point of view, there is a fairly good chance that the vast majority of your audience will drop out. That's a shame, because involvement is essential. An important step is therefore to translate the scientific view into something that gets people moving. And that you can show the right level of detail to the right visitor. For example, a sustainability manager probably wants to know everything in detail, while a CEO has less time to read all the scientific information, and therefore benefits more from an overview.
Through data visualizations and clearly structured information, we developed a story that immediately appeals and guides visitors to what they are looking for. In this way we maintain the richness and complexity of WBA's work and make the benchmarks accessible and relevant to a wide audience: from policy makers and influencers to facilitators.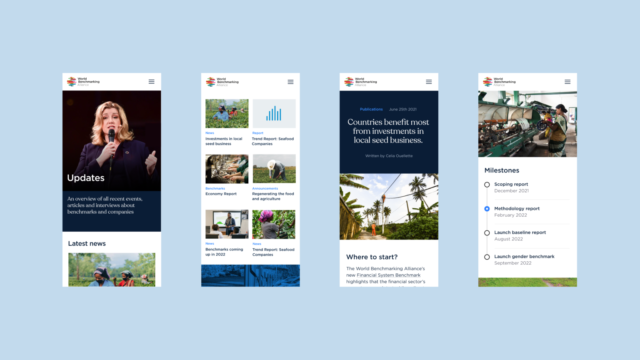 An editorial platform that offers space for different content types
High involvement leads to higher effort. That is why it is important that WBA's stories are presented in an attractive way. No bells or whistles that distract the visitor, but precisely by focusing on the content. And to present this in an attractive way.
We created an editorial platform where WBA can store different content. We have supplemented the identity of WBA with a large image and serif letters to support the journalistic approach. Different types of media, quotes and subtle references can be used flexibly to tell the stories of the alliance and benchmark findings in a varied and attractive way. This results in a pleasant environment in which visitors can take in the stories of the alliance.
Scaling up easily and cost-efficiently
When developing the benchmarks, three things were important to WBA:
Consistent and comparable benchmarks for the user
Easy to scale: the goal is to have benchmarked all SDG2000 companies in short time
Maintain sufficient flexibility, so that the individuality of each benchmark is monitored and are therefore future-proof
To meet these requirements, WBA received a design system and a modular back-end from us. With the building blocks that we have designed, the editors of WBA can now easily put together new products and pages. Without having to constantly reinvent the wheel. This saves valuable time and leaves us time for new functionalities and unique challenges. This is of course very favorable for an NGO, because it reduces the costs per benchmark.
Want to scale up easily without losing flexibility in design?
We like to think along with you. Call +31 20 – 32 077 08 or send Rolf Coppens an e-mail