Creating support within a broad field of stakeholders
Aedes develops office buildings, hotels and houses with world-renowned architects in the higher segment. They specialize in the redevelopment of cultural heritage and ensure that a building will still be as relevant in 50 years as it is today. Both for the people who live in them, and for the environment surrounding their buildings.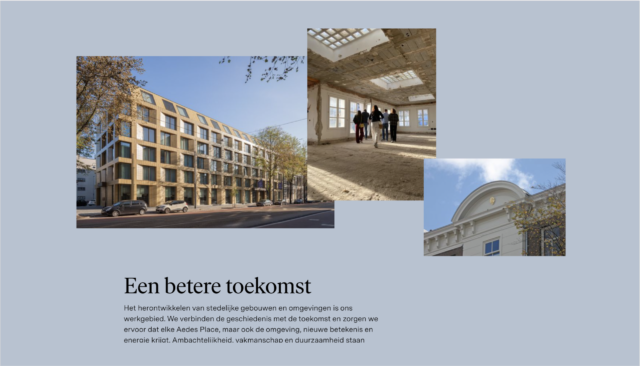 Aedes benefits from a neighborhood that understands their good intentions, because the neighborhood plays a crucial role in the success of a project. So the challenge lies with getting the surrounding residents and business enthusiastically involved. And a hard challenge it is, for the arrival of a new hotel rather evokes commotion than enthusiastic reactions. For example, residents from the street are concerned about the large procession of trolleys, the district wants to know what a construction project contributes to the neighborhood and the city council has the same question marks, but on a larger and more abstract level.
It is therefore important to create support among the various stakeholders. Take Hyatt Regency, for example. Local residents might see a building with a nice coffee shop and luxurious workspaces, but fail to see how that improves the quality of the neighborhood or that Aedes has preserved an old building and heritage site in the process. It takes a business model to preserve these sites and creating awareness under stakeholders is crucial. Residents are not the only stakeholders, however. It is equally important that banks see reason to invest in Aedes' projects. And that municipalities are prepared to issue permits. We set to work on strengthening confidence among these various parties.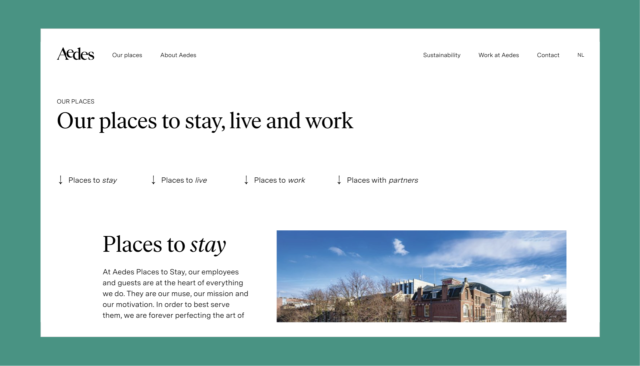 Striking the right chord with different target groups
Aedes' focus on both residents and business stakeholders requires them to communicate on different levels. Investments and permits have to be obtained, while at the same time, business stakeholders need to be convinced of Aedes' intentions and professionalism. In addition, the residents require a consumer-minded way of communicating.
We, therefore, looked for the right balance between content and form, and developed a website that breathes quality and hospitality. Smooth transitions and a white canvas provide a premium look, whilst giving Aedes the space to show their projects and their impact. With this design, the website hits the right note for business and has become a true reflection of Aedes' identity: detailed, hospitable and focussed on cultural heritage.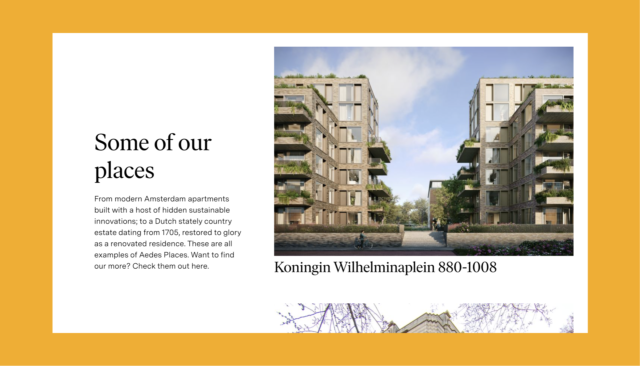 A digital reflection of Aedes identity
Aedes is known for their eye for detail. They look for the soul in every building and bring it to the forefront. Sometimes that is a matter of a few minor adjustments. However, they sometimes opt for a major intervention, for example, when a doorstep is just out of place.
Whatever they may choose, cultural heritage is protected and part of the new design. Thus, historical stories are intertwined in buildings that will still be interesting, viable and user-friendly in 50 years' time.
We reflected that eye for detail in the work we did for their website. We created white spaces so photography can do the work. Images of impressive green facades and marble walls are interspersed with photos of authentic stairwells. The collages make it possible to place details in a broader context. You will be pulled into the historical past ánd the sustainable future of all their buildings.
Want to create support for a broad field of stakeholders?
We are happy to help. Call +31 (0) 20 – 320 7708 or email Rolf Coppens to see if we are a match.