Innovation in the changing world of pensions
Solving problems with strategy, design and tech
ABP or APG in Dutch is the pension fund for government and education employees in the Netherlands.  With more then 2.8 million participants and assets under management of €344 billion ($388 billion, 1 EUR=1.13 USD), it is one of the largest pension funds in the Netherlands and among the five largest pension funds in the world.
APG asked us to make a pension app. The app did not come, but after a Design Thinking process, Kandoor was born. An organisation that will facilitate over 800,000 Dutch people to get free financial advice. With an innovation process it is important assumptions are tested quickly. You come up with a pension app, but are your potential users interested in that?
At GRRR we use, Service Design and Design Thinking methods to ensure that we never lose sight of the end user in an innovation process. If you work together with APG, it's not difficult to meet a user. APG executes 30% of all Dutch pensions. So you only have to walk into the street and you have a 30% chance of reaching your target group. So that's what we dit. We learned that:
websites provide unilateral information;
financial advisers are often not independent;
many people have no financial expertise and know no experts.
Many people expressed concern about their financial situation and their retirement 🤷‍♂️.
Design Thinking the GRRR way
Design Thinking is a cognitive, strategic and practical process for solving problems. By working from the so-called double diamond model, you ensure that you always put the end user, for whom you ultimately do the work, at the center of your process. If you implement the method properly, there is a combination of empathy, creativity and rationality. This often turns out to be a successful mix.
This method originated in the design sector but is nowadays also applied by almost all major consultancy firms and multinationals. At GRRR we apply it in our own way, whereby we focus on the end user, but also take into account how your organisation looks and what specific circumstances apply there.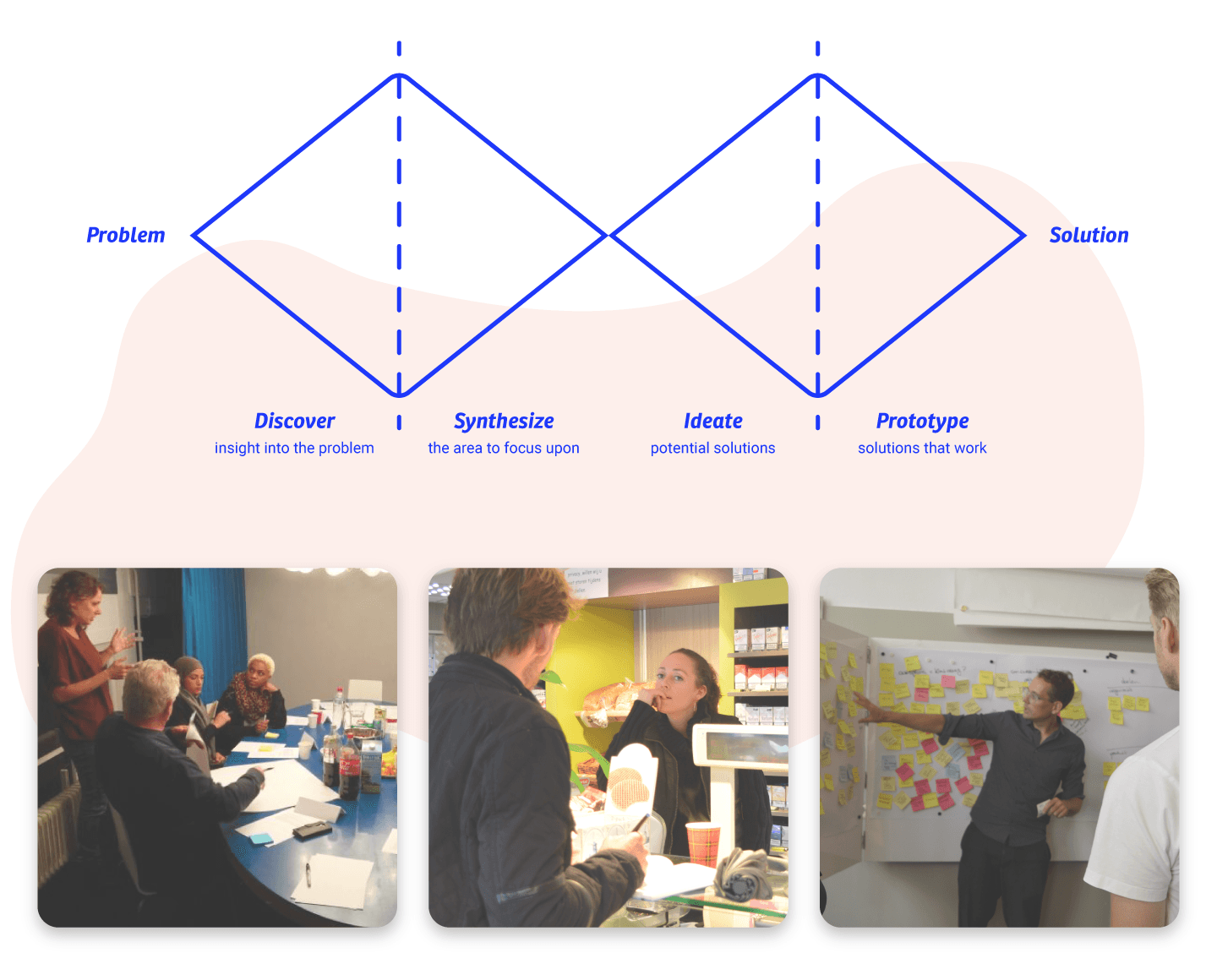 Enjoy now without pension worries
Pension is like that cupboard that you would rather not open because there is too much junk in it. If you do clean up once, it often turns out to be better than expected. Many people can go on without worry after a few relatively simple answers to pension questions. That's why we made Kandoor. On the Kandoor.nl online platform, financial experts provide free 1-on-1 advice to anyone who needs it. They help you to focus on your question. Because often you don't even know exactly what you want to ask.
Artificial intelligence
Artificial intelligence ensures that frequently asked questions are answered by the platform itself. This makes the platform scalable and accessible to everyone. For example, we made APG 21th century proof: if there is open competition between pension funds, this fund will be way ahead of the competition.
Gamechanger: free pension advice for all
70% of the Dutch population is hardly or not at all concerned with retirement, but does have a dormant feeling of unrest. Fortunately, 30% do appear to be actively retiring and willing to help others. First only acquaintances, now through Kandoor everyone who reports. Pension never stands alone, often it is about broader financial advice. At Kandoor you have:
Help with all financial questions on one platform
Free 1-on-1 contact with an expert to get you started
Attention to your personal situation
Kandoor is a social initiative financed and supported by pension provider APG. APG invests not only in pensions, but also in new companies, concepts and projects that make society better. Kandoor therefore has no profit motive. APG does get to know the consumer better through Kandoor and through Kandoor they can experiment with new digital technologies.