A look behind the scenes: this is what a collaboration with GRRR looks like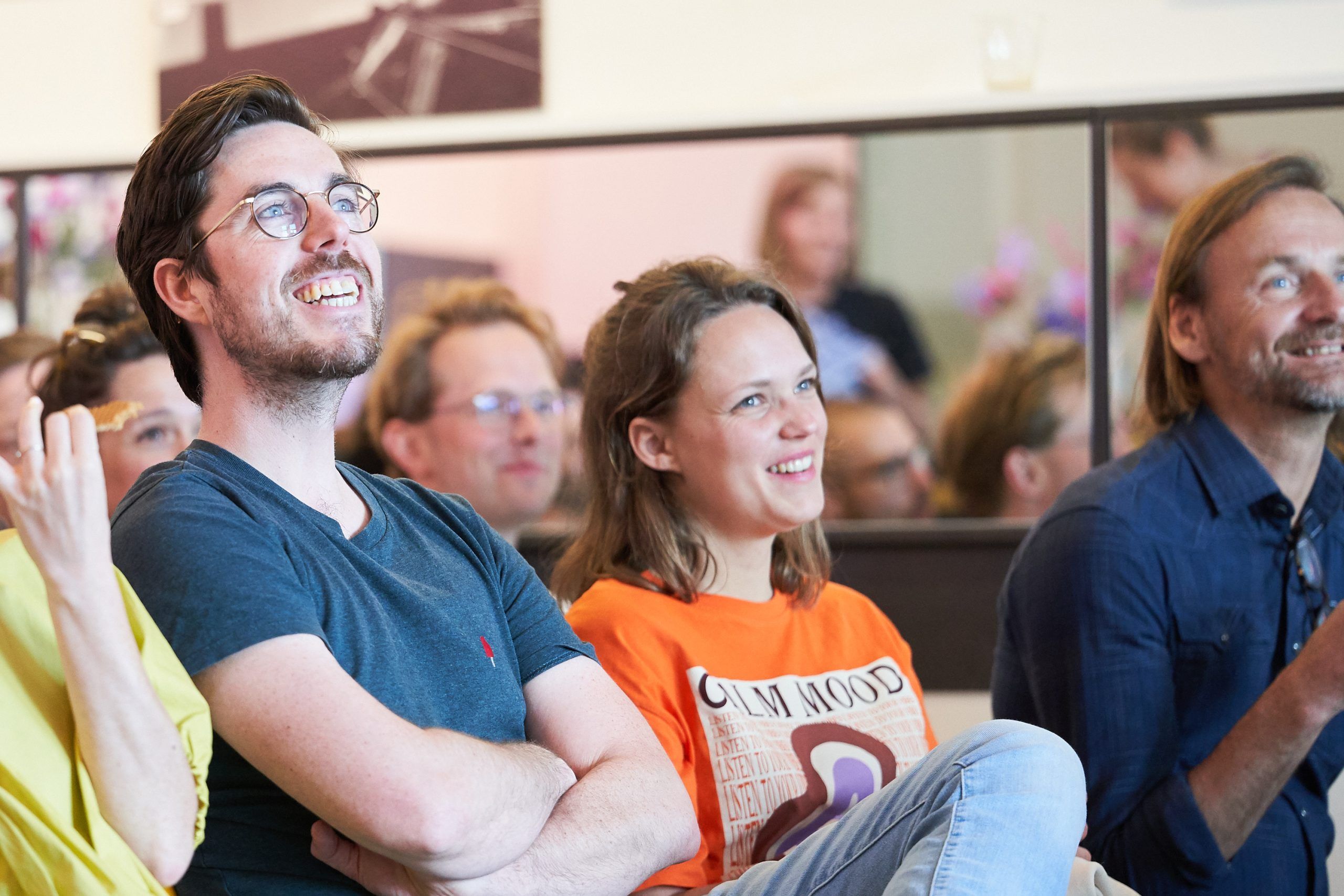 We act together
Society expects more and more from your brand and organization. At GRRR, we make sure you stay ahead in the decade of change by combining the power of strategy, design and tech. We would like to explain exactly how we approach this.
Together we will look for the solution to your problem. Whether it concerns a new branding, website or innovation project, it is most important for us to first understand the question (and the question behind the question). This is how we arrive – step by step – at the solution that is right for your target groups and for your organization. And we succeed at this every time. We will explain the steps below.
A mix of people
We like to mix things up: in our teams we mix energetic gen Z-ers with veterans. And strategists, developers and designers work together to come up with the best solutions. Our design experts also know a thing or two about building a website and vice versa. This ensures mutual coordination. A smooth coordination with you is guaranteed by the project manager, who is your regular contact person during the entire process.
Via the online tool ActiveCollab you have direct contact with the makers. We ensure that we put together a team of specialists based on expertise and interests that perfectly matches the needs of our partner. Yes, we call our clients partners since we do not like the classic customer-supplier approach and like to work together on an equal footing.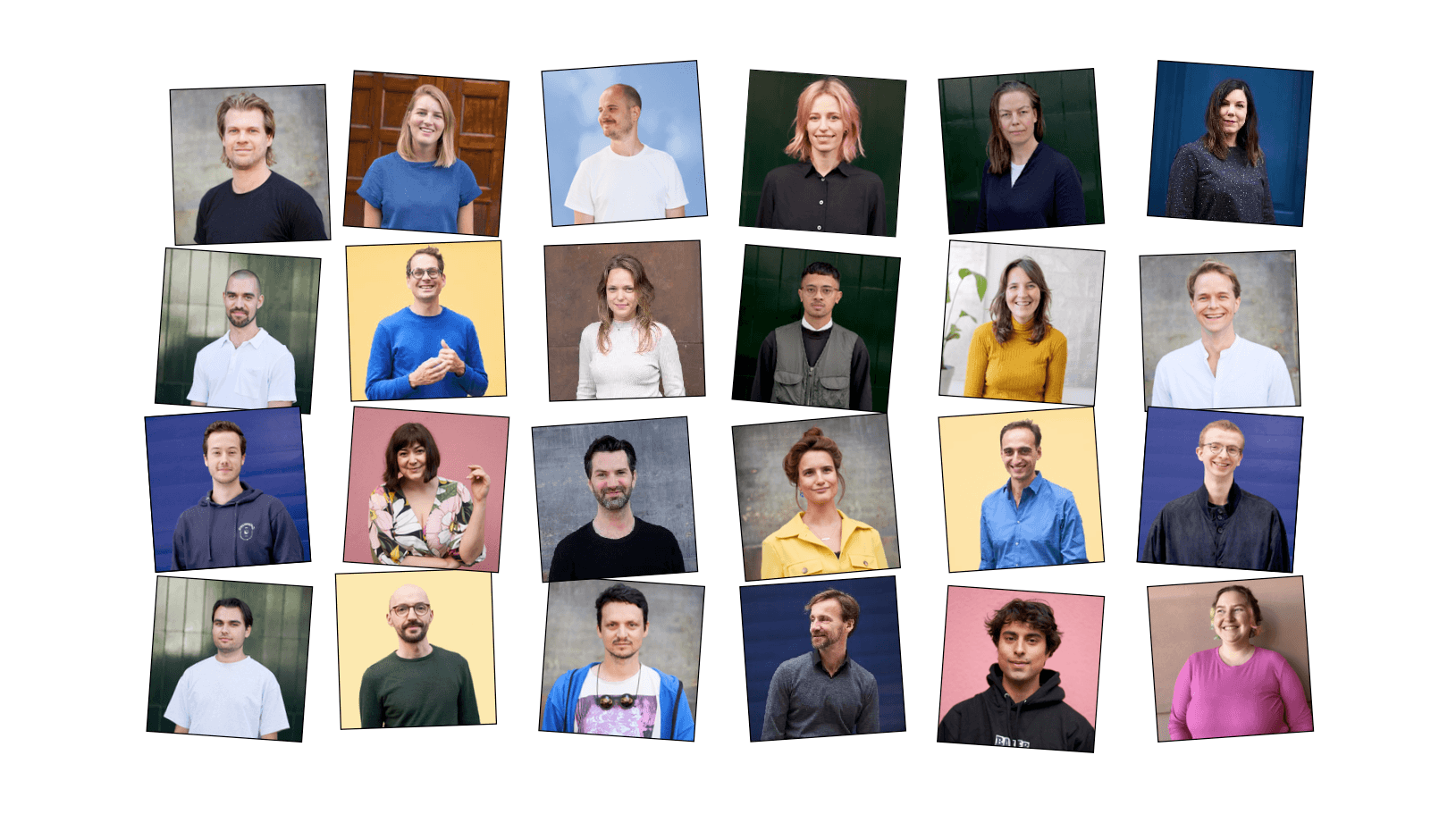 We use the most effective elements from Service Design and Design Thinking
What you can recognize in our approach from Service Design is that we put the target groups and the needs of the target group first when exploring the best solution. And we take from Design Thinking that design can also very well be applied as a tool for research and experiment. By visualizing ideas directly, it becomes clear what works and what doesn't.
We apply these methodologies in our own way. We believe it is important to also take into account your organization and the specific circumstances that apply there. Below you can see our process approach shown in an image. Internally we call that the 'shashlik method' (see?!), but you are not supposed to know that.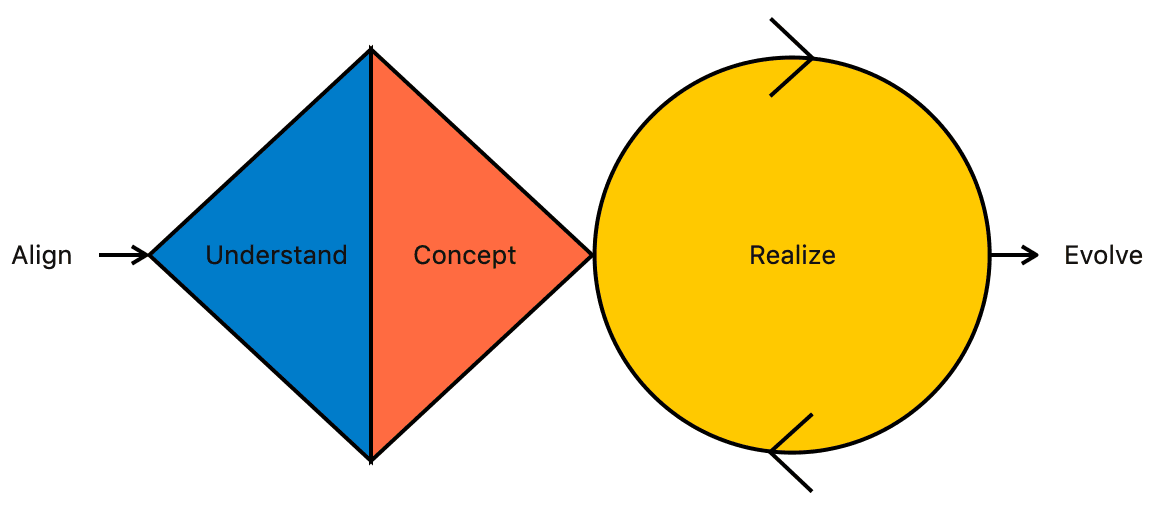 We are tackling the project in phases
We divide the process into manageable phases. How exactly we fill in a phase and how long it lasts depends on what a project needs. Each phase is concluded by what we call a deliverable. Going through this process takes at least 6 to 8 weeks for a branding project, about 3 months for a website and about 6 months for innovation projects. The exact time depends on the project itself and will be coordinated jointly in the first phase.
Align
We align the way we work together. What is the budget, the planning and who are the stakeholders? What are the expectations and what makes the project a success?
Deliverable: a project plan
Understand
We dive completely into your world. We want to understand who you are in order to come up with the most effective strategy. In strategy sessions we take together with you a closer look at the organization and your challenge.
Deliverable: creative brief
Concept
In this phase we will zoom in on the solution. We look at existing visual elements and explore multiple possible directions with you. We validate the most promising ideas with the target group and go into further detail.
Deliverable: visual concept
Realize
We believe in testing. By working iteratively, we test whether our solution is effective. In sprints (in a web process) we process feedback and user tests. In a branding process, we create applications so that we can test the concept in many scenarios. In this way we ensure that all details are perfect in the final product.
Deliverable: final product + user training
Evolve

After delivery, we like to stay in touch as a 'critical friend'. Every x number of months we review whether our solution has achieved your objectives – based on KPIs where possible.
Want to learn more about what to expect after the launch? Read more about it in this article.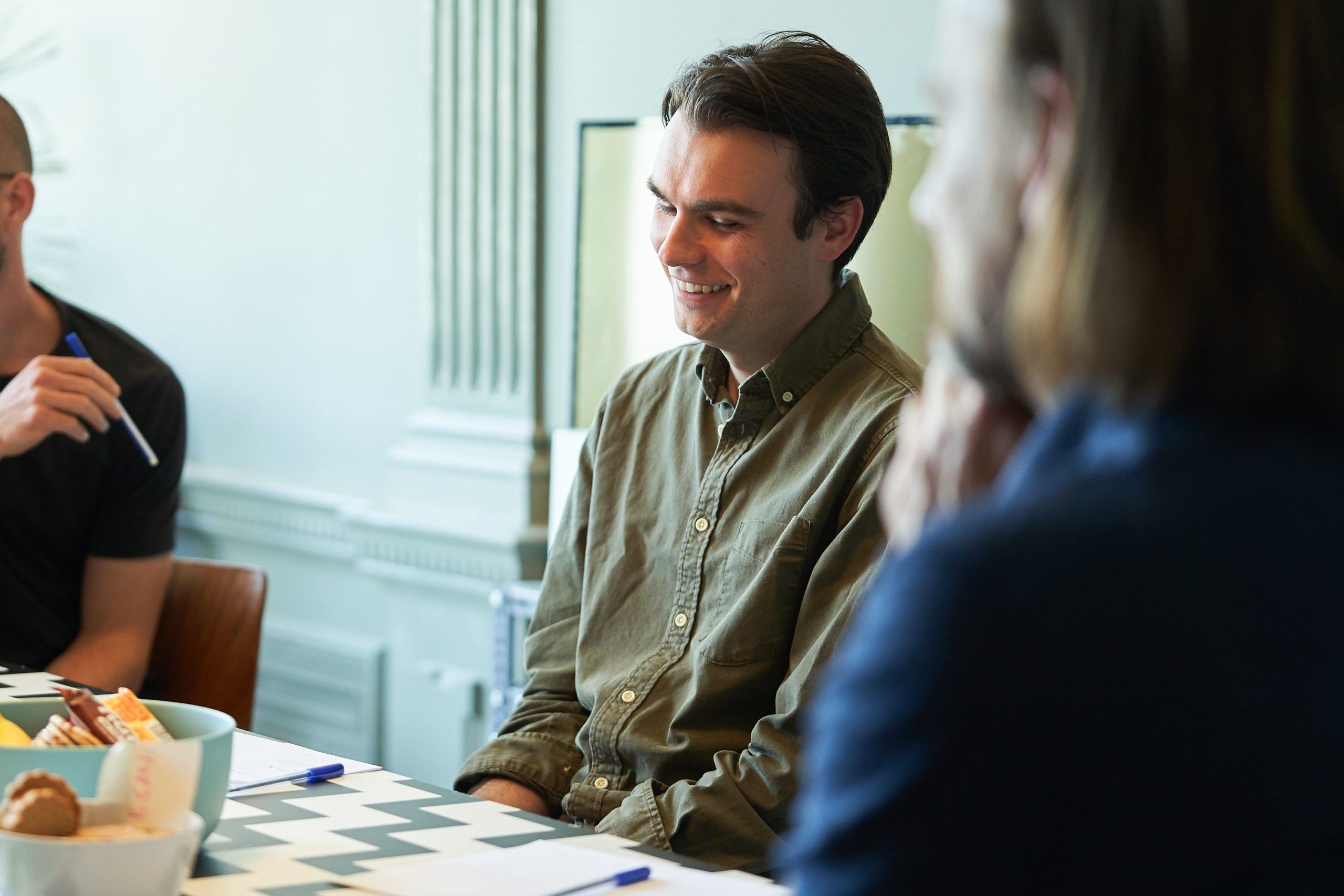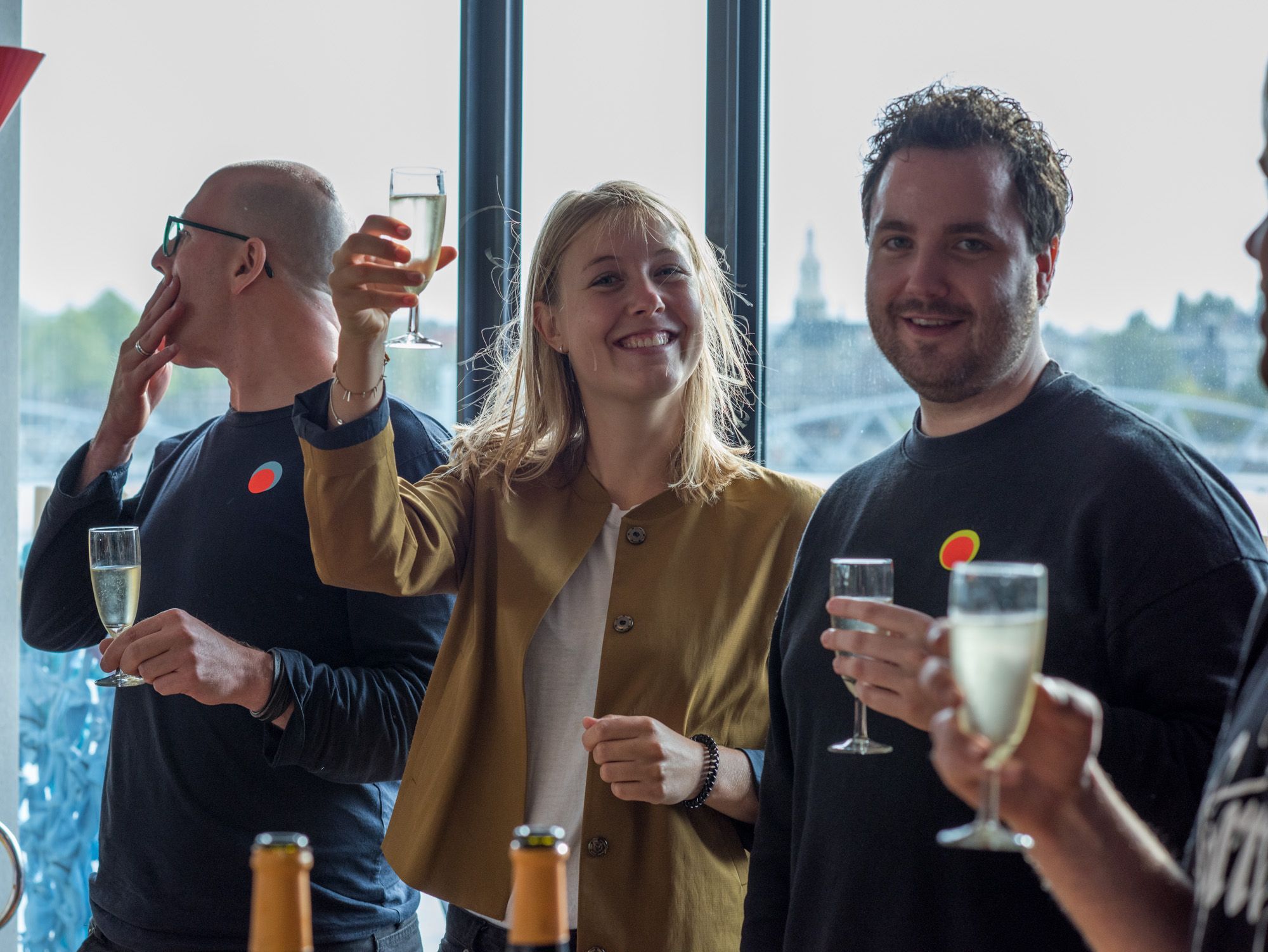 Let's go!
You now know what our process looks like, and what you can expect from us at every stage of the process. Of course we understand that for us this is daily business for us, and that – especially if this is your first time working with an agency – you have still to get to used to some things. Perhaps it helps to go back to this document and do not hesitate to tap us. We are going to do this together and we are really looking forward to it.